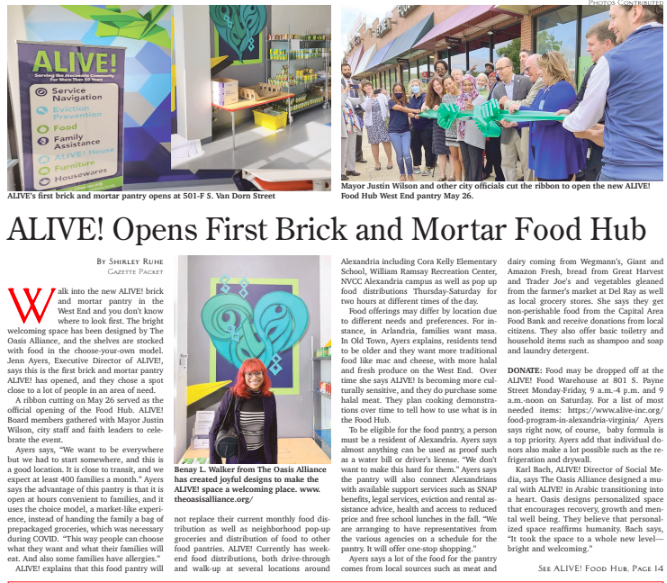 By Shirley Ruhe Gazette Packet
Walk into the new ALIVE! brick and mortar pantry in the West End and you don't know where to look first. The bright welcoming space has been designed by The Oasis Alliance, and the shelves are stocked with food in the choose-your-own model. Jenn Ayers, Executive Director of ALIVE!, says this is the first brick and mortar pantry ALIVE! has opened, and they chose a spot close to a lot of people in an area of need.
A ribbon cutting on May 26 served as the official opening of the Food Hub. ALIVE! Board members gathered with Mayor Justin Wilson, city staff and faith leaders to celebrate the event.
Ayers says, "We want to be everywhere but we had to start somewhere, and this is a good location. It is close to transit, and we expect at least 400 families a month." Ayers says the advantage of this pantry is that it is open at hours convenient to families, and it uses the choice model, a market-like experience, instead of handing the family a bag of prepackaged groceries, which was necessary during COVID. "This way people can choose what they want and what their families will eat. And also some families have allergies."
ALIVE! explains that this food pantry will not replace their current monthly food distribution as well as neighborhood pop-up groceries and distribution of food to other food pantries. ALIVE! Currently has weekend food distributions, both drive-through and walk-up at several locations around Alexandria including Cora Kelly Elementary School, William Ramsay Recreation Center, NVCC Alexandria campus as well as pop up food distributions Thursday-Saturday for two hours at different times of the day.
Food offerings may differ by location due to different needs and preferences. For instance, in Arlandria, families want masa. In Old Town, Ayers explains, residents tend to be older and they want more traditional food like mac and cheese, with more halal and fresh produce on the West End. Over time she says ALIVE! Is becoming more culturally sensitive, and they do purchase some halal meat. They plan cooking demonstrations over time to tell how to use what is in the Food Hub.
To be eligible for the food pantry, a person must be a resident of Alexandria. Ayers says almost anything can be used as proof such as a water bill or driver's license. "We don't want to make this hard for them." Ayers says the pantry will also connect Alexandrians with available support services such as SNAP benefits, legal services, eviction and rental assistance advice, health and access to reduced price and free school lunches in the fall. "We are arranging to have representatives from the various agencies on a schedule for the pantry. It will offer one-stop shopping."
Ayers says a lot of the food for the pantry comes from local sources such as meat and dairy coming from Wegmann's, Giant and Amazon Fresh, bread from Great Harvest and Trader Joe's and vegetables gleaned from the farmer's market at Del Ray as well as local grocery stores. She says they get non-perishable food from the Capital Area Food Bank and receive donations from local citizens. They also offer basic toiletry and household items such as shampoo and soap and laundry detergent.
DONATE: Food may be dropped off at the ALIVE! Food Warehouse at 801 S. Payne Street Monday-Friday, 9 a.m.-4 p.m. and 9 a.m.-noon on Saturday. For a list of most needed items: https://www.alive-inc.org/ food-program-in-alexandria-virginia/ Ayers says right now, of course, baby formula is a top priority. Ayers add that individual donors also make a lot possible such as the refrigeration and drywall.
Karl Bach, ALIVE! Director of Social Media, says The Oasis Alliance designed a mural with ALIVE! in Arabic transitioning into a heart. Oasis designs personalized space that encourages recovery, growth and mental well being. They believe that personalized space reaffirms humanity. Bach says, "It took the space to a whole new level— bright and welcoming."
ALIVE! received funds for this project from the American Rescue Plan as a sub-awardee of the City of Alexandria. Ayers explains they received $1 million over two years, which will cover distribution plus this pantry and another on the North. She adds they haven't yet chosen the site for the other pantry. "It is a lot more challenging to find a site that is available in that area." The new pantry is located at 501-F S. Van Dorn Street (in the Van Dorn Station Shopping Center) and is open Tuesday-Thursday noon-6:30 pm and Friday and Saturday 10 am-1 pm.
More at: http://connectionarchives.com/PDF/2022/060122/Alexandria.pdf