Furniture Program
The ALIVE! Furniture Program will re-open soon.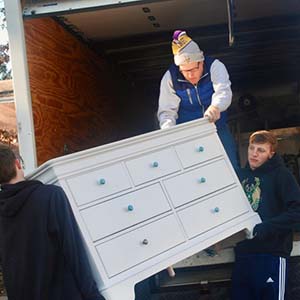 About
To support people in need. ALIVE! volunteers collect furniture donated by Alexandria city residents and deliver it to Alexandrians every week – mostly Saturday mornings (and three Sundays of the year).
Areas Served
The ALIVE! furniture volunteers serve geographic areas and zip codes only in the city of Alexandria. This includes 22301, 22302, 22304, 22305, 22206 east of I-395, 22314, and the areas of 22311 and 22312 that are in the city of Alexandria. Generosity matters to us, but currently, we do not have the ability to pick up in the "Alexandria" part of Fairfax County or outside the city limits of Alexandria. For a list of other organizations see below.
How It Works
ALIVE! volunteers pick up the furniture from the city of Alexandria donors on Saturdays from 8:00 am – 1:00 pm (and 3 Sundays of the year from 1:00 pm – 6:00 pm). They then try to get it to someone in need that day. If they cannot, then furniture is stored for a short time until it finds a home. Donors are requested to have someone at the home for the pick-up. PLEASE NOTE: Our volunteers exercise extreme care in moving furniture out of donor homes, but they are not professional movers. We are very grateful for the furniture donations and will be very conscious and careful in removing furniture from homes.
Type of Donations & Information for Donors
ALIVE! clients need staple furniture items such as mattresses, beds, tables, chairs, sofas, dressers and chests of drawers, and lamps. We cannot accept king beds, trundle beds, armoires/hutches, entertainment centers, sleeper sofas, appliances, patio furniture, office furniture, or rugs. We expect scratches and other normal wear, but we cannot accept items that need repair or are in poor condition. To donate furniture or ask questions, please contact furniture@alive-inc.org. The ALIVE! The furniture Program is completely managed by volunteers who strive to provide a prompt response, but it may be several days before you are contacted. Please be patient.
Our capacity is limited by time, the number of volunteers we have, and the need to match donations with needs for the week. Therefore, pick-up on a particular Saturday cannot be assumed in advance.

If you must be rid of something by a particular day, we recommend that you not limit yourself to contacting us, and we will understand if your furniture finds another home before we can accept it.
Get Involved
Complete the Volunteer Form, if you are interested in volunteering for our furniture program. We welcome students doing community service hours and families as long as they are accompanied by responsible adults. Volunteers should dress appropriately for the job and wear closed-toe sturdy footwear.
Volunteer jobs within this program include:
Driving a truck- may require background check/proof of license and insurance

Helping to move furniture

Schedulers to coordinate delivery and welcome volunteer teams (work in 2-week increments)

Delivering food and bedding and other housewares to families receiving furniture when available

Door holders
Volunteer operations for this program take place every week at 8:00 am on Saturdays, except for three Sundays when they take place at 1:00 pm. Most deliveries work is completed within 4-5 hours.
Furniture Request
If you need furniture, you must obtain a referral from a case worker at an agency or organization. They will contact us to request furniture for you. Solicitudes: Si usted necesita muebles, debes de primer obtener una referencia de una agencia o organización. Ellos después nos contactará para solicitar los muebles para usted. Referring Agencies: We no longer take requests by phone. Please email and provide the following information:
Your name

Organization

Phone number

Your client's name

Address

Phone number

Email

A specific list of your client's needs
We will add your client to our list of needs immediately. However, please remember that our capacity each Saturday is limited by time, number of volunteers, and the scarcity of particular items at any given time. Please feel free to contact us again if your client has not received furniture after a month.
Contact
For more information, contact us or call (703) 837-9321.
Groups that Pick Up Appliances and Furniture
| Organization | Contact Information | Range of Operation |
| --- | --- | --- |
| | FURNITURE | |
| Salvation Army | 703-642-9270 | www.satruck.org | Northern Virginia, D.C. Metro |
| Annandale Christian Community For Action (ACCA) | 703-256-9513 | www.accacares.org/furniture | Annandale, Falls Church, North Springfield |
| Lorton Community Action Center | 703-339-5161 | Lorton, Mount Vernon, Route 1 Corridor |
| United Community Ministries | 703-799-7015 | Route 1 Corridor |
| Committee for Helping Others | 202-681-5279 & 703-281-7614 | Vienna, Oakton, Dunn Loring, Merrifield |
| Habitat for Humanity (takes sleep sofas) | 703-360-6700 | www.habitatnova.org | Northern Virginia |
| Goodwill of Greater Washington | www.dcgoodwill.org | Northern Virginia, D.C. Metro |
| Community for Creative | www.theccnv.org | Northern Virginia, D.C. Metro |
| Nonviolence | 202-393-1909 ext. 229 | |
| | APPLIANCES | |
| Habitat for Humanity | 703-360-6700 | www.habitatnova.org | Northern Virginia |
| American Rescue Workers | 301-336-6200 | ministry@rescuedc.com | Northern Virginia, D.C. Metro |
| Community for Creative Nonviolence | 202-393-1909 ext. 229 | www.theccnv.org | Northern Virginia, D.C. Metro |