Furniture Program
The ALIVE! Furniture Program is re-opened! You can email our volunteer run program at furniture@alive-inc.org. Response times vary. If you need to donate furniture quickly, look to alternative organizations at the bottom of the page.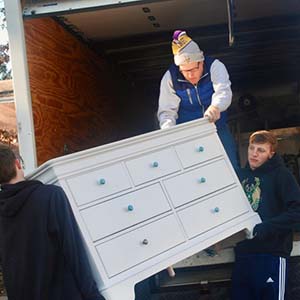 About
ALIVE! volunteers collect furniture donated by city residents and deliver these items to Alexandrians in need every week – mostly Saturday mornings and three Sundays of the year. Learn more about volunteering with ALIVE!
Areas Served
The ALIVE! furniture volunteers serve geographic areas and zip codes only in the city of Alexandria.
This includes 22301, 22302, 22304, 22305, 22206 east of I-395, 22314, and the areas of 22311 and 22312 that are in the city of Alexandria. Generosity matters to us, but currently, we do not have the ability to pick up in the Alexandria part of Fairfax County or outside the city limits of Alexandria. For a list of other organizations that serve outside of Alexandria, see below.
How It Works
ALIVE! volunteers pick up donated items that are clean and in good condition from Alexandria donors on Saturdays from 8:00am – 1:00pm (and 3 Sundays of the year from 1:00pm – 6:00pm). Our goal is to deliver a donated piece of furniture to a family in need that day. Donated furniture can also be for a short time until it finds a home.
Information for Donor
Donors are required to have someone at the home for the pick-up.
Donors should be prepared to have people enter their home and provide proof of vaccination against COVID-19, confirm no one is presently ill, and wear a mask.
To the extent possible, donors are asked to have furniture ready to go.

Please note: Our volunteers exercise extreme care in moving furniture out of donor homes, but they are not professional movers. We are very grateful for the furniture donations, and we will be very conscious and careful in removing furniture from homes.
Type of Donations & Information for Donors
ALIVE! clients need staple furniture items such as mattresses, beds, tables, chairs, sofas, dressers and chests of drawers, and lamps. We cannot accept king beds, trundle beds, armoires/hutches, entertainment centers, sleeper sofas, appliances, patio furniture, office furniture, or rugs. We expect scratches and other normal wear, but we cannot accept items that are stained, need repair, or are in poor condition.
Volunteers are asked to use their discretion and may opt not to take a donation on-site.
To donate furniture or ask questions, please contact furniture@alive-inc.org. The ALIVE! furniture Program is completely managed by volunteers who strive to provide a prompt response, but it may be several days before you are contacted. Please be patient.
• Our capacity is limited by time, the number of volunteers we have, and the need to match donations with needs for the week. Therefore, pick-up on a particular day cannot be assumed in advance.
• If you must be rid of something by a particular day, we recommend that you not limit yourself to contacting us, and we will understand if your furniture finds another home before we can accept it.
Furniture Request
If you need furniture, you must obtain a referral from a city of Alexandria nonprofit, government agency, or ALIVE! member congregation. They will contact us to request furniture for you.
Please contact the ALIVE! Furniture Program via email and provide the following information:
1. Your name
2. Organization
3. Phone number
4. Your client's name
5. Address
6. Phone number
7. Email
8. A specific list of your client's needs

We will add your client to our list of needs immediately. However, please remember that our capacity each Saturday is limited by time, number of volunteers, and the availability of items at any given time. Please follow up with your client to determine if their needs were met and feel free to contact us again if your client has not received furniture after a month
Get Involved
Local congregations are the mainstay of our volunteer base for this program. If you are a part of an ALIVE! Member Congregation please sign up with your congregation. From time to time we also call on volunteers from the public. All volunteer opportunities are listed on our volunteer page. All volunteers must register in advance.
We also need regular volunteers to help with this program, including drivers, and safety coordination. If you have questions and want to learn more contact ALIVE!'s Volunteer Coordinator.
Volunteers should dress appropriately for the job and wear closed-toe sturdy footwear.
Volunteer jobs within this program include:
• Driving a truck- may require background check/proof of license and insurance
• Helping to move furniture
• Schedulers to coordinate delivery and welcome volunteer teams (work in 2-week increments)- training is required.
• Delivering food and bedding and other housewares to families receiving furniture when available
• Door holders
Volunteer operations for this program take place every week from 8:00am – 1:00 pm on Saturdays, except for three Sundays when they take place from 1:00pm- 6:00 pm. Most delivery shifts are completed within 4-5 hours.
Contact
For more information, contact us at furniture@alive-inc.org
Organizations that Pick Up Appliances and Furniture
| Organization | Contact Information | Website | Email | Range of Operation |
| --- | --- | --- | --- |
| Salvation Army | 703-642-9270 | Lawrence.goode@uss.salvationarmy.org | 6528 Little River Turnpike, Alexandria, VA 22312 |
| Annandale Community Action Center | 703-256-0100; 703-2569513 | furniture@accacares.org; info@accacares.org | 7200 Columbia Pike, Annandale VA 22003 |
| Lorton Community Action Center | 703-339-5161 | Diana@lortonaction.org | 9520 Richmond Hwy, Lorton, VA 22079 |
| Committee for Helping Others | 202-681-5279 | 703-281-7614 | cho@cho-va.com | 133 Park St NE, Vienna, VA 22180 |
| Habitat for Humanity of Norther Virginia | 703-360-6700 | donations@habitatnova.org | 869 South Pickett Street Alexandria VA 22304 |
| Falls Church Community Service Council Inc. | 703-237-2562 | fcswecare@aol.com | 7416 Arlington Blvd, Falls Church VA 22042 |
| Goodwill of Greater Washington | 703-647-8402 | www.dcgoodwill.org | 6220 Richmond Hwy Alexandria VA 22302 |
| SHARE of McLean | 703-237-2562 | www.shareofmclean.org/furniture | 1367 Chain Bridge Rd., McLean, VA 22101 |
| Community of Creative Nonviolence | 202-602-0040 | info@theCCNV.org | 425 Mitch Snyder Place (2nd street), NW Washington, DC 20001 |
| Vietnam Veterans of America | 800-775-8387 | 877-901-5384 | info@scheduleapickup.com | 123 Bowie Rd., Laurel MD 20707 |
| Catholic Charities | 703-549-1390 | 703-841-3830 | www.Catholiccharitiesusa.org | 2050 Ballenger Ave St 400 Alexandria VA 22314 |
| Lutheran Social Services | 202-723-3000 | development@issnca.org | 3975 Fair Ridge Drive Suite 100 North Fairfax, VA 22033 |