Alexandria Eviction Prevention Partnership
Facing eviction or need rental assistance?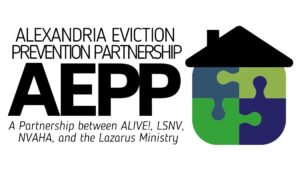 Call (703) 837-9300 or email AEPP3@alive-inc.org. Español disponible.
About AEPP
Alexandria Eviction Prevention Partnership (AEPP) connects Alexandria residents who are experiencing housing insecurity during the COVID-19 pandemic to resources and information and provides support to residents applying for rental assistance or navigating the eviction process. AEPP seeks to work collaboratively with the many community partners, faith organizations, and city departments that form the backbone of outreach and support to so many of Alexandria's residents.    
AEPP is a partnership of ALIVE!, Legal Services of Northern Virginia, Northern Virginia Affordable Housing Alliance, and The Lazarus Ministry of Christ Church.
Get Involved
Interested in helping Alexandrians connect to housing assistance? AEPP accepts volunteers on a case-by-case basis. To volunteer, contact info@alive-inc.org.