Planned Closures and Winter Holiday Schedule
Last Saturday Food Distribution events for November and December will take place on the 3rd Saturday due to upcoming holidays. The November distribution will take place on 19th and the December distribution will take place on 17th. You can see more about the updated schedules for October, November and December below.
Food Program
ALIVE! strives to provide nutritious foods through direct distribution to our clients and by supporting Alexandria's food pantries, meal kitchens, public schools, recreation centers, and other community partners.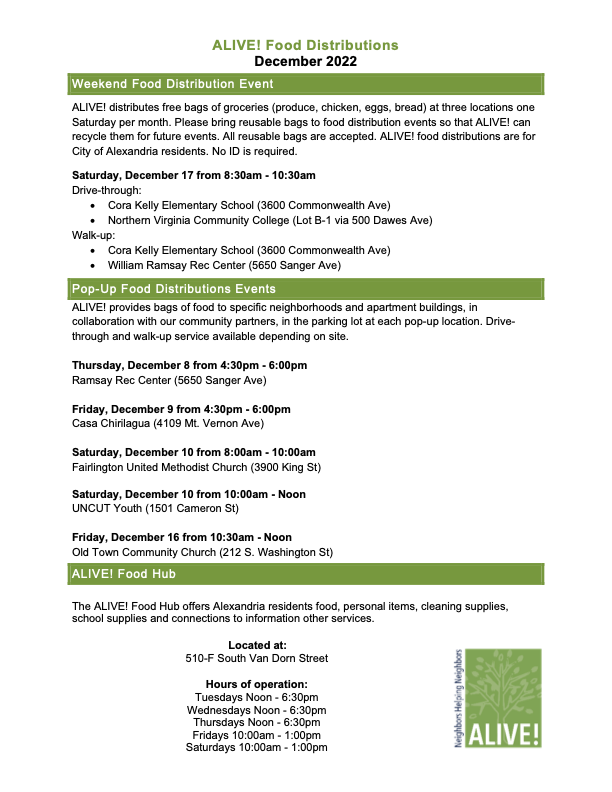 ALIVE! Food Distribution Calendar – December 2022
Food Distribution Calendar
Saturday, December 17th from 8:30am – 10:30am
Drive-through:
Cora Kelly Elementary School (3600 Commonwealth Ave)
NVCC Alexandria Campus (parking lot B-1 via 5000 Dawes Ave)- No walk up distribution available.
Walk-up:
Cora Kelly Elementary School (3600 Commonwealth Ave)
William Ramsay Rec Center (5650 Sanger Ave)
The ALIVE! Food Hub offers Alexandria residents free:
• food • personal items • cleaning supplies • school supplies • community • connections to information other about services
Food Hub Hours of Operation:
Tuesdays Noon-6:30pm
Wednesdays Noon-6:30pm
Thursdays Noon-6:30pm
Fridays 10am-1pm
Saturdays 10am-1pm
Located at:
510-F South Van Dorn Street
Pop-Up Food Distributions Events
ALIVE! provides bags of food to specific neighborhoods and apartment buildings, in collaboration with our community partners, in the parking lot at each pop-up location. Drive-through and walk-up service available depending on site.
Thursday, December 8 from 4:30pm – 6:00pm
Ramsay Rec Center (5650 Sanger Ave)
Friday, December 9 from 4:30pm – 6:00pm
Casa Chirilagua (4109 Mt. Vernon Ave)
Saturday, December 10 from 8:00am – 10:00am
Fairlington United Methodist Church (3900 King St)
Saturday, December 10 from 10:00am – Noon
UNCUT Youth (1501 Cameron St)
Friday, December 16 from 10:30am – Noon
Old Town Community Church (212 S. Washington St)
Food Drives
Run a food drive on behalf of ALIVE! by collecting food donations from your co-workers, friends, and family. Collect food from the lists of accepted food donations. Drop off food donations during regular collection times. See how to get started here: Host a Food Drive
Plus, encourage your supporters to make a financial donation to your food drive. We suggest donating the amount of money you would have spent on donating food. Give your food drive a unique name so your supporters can reference your food drive name in the comments section of online donations or memo line of check donations. ex) Smith Family Food Drive
Food Collection Times
Food donations may be dropped off at the ALIVE! Food Warehouse (801 S. Payne Street) Monday through Friday, 9am until 4pm (closing at 7 pm on Thursdays), and 9am until noon on Saturdays.
Accepted Food Donations
Donations must be from the current lists of accepted food donations. Personal size, non-bulk portions. No expired food or food packaged in glass containers. Donation receipts are available upon request.
GENERALLY ACCEPTED FOOD DONATIONS
FRUITS & VEGETABLES
GRAINS

Canned fruits & vegetables

Brown or wild rice, couscous, quinoa

Fruit or vegetable juice

Oatmeal & cereal

Applesauce

Granola bars

Fruit cups

Whole wheat or multi-grain crackers

Jelly & jam

PROTEINS
OTHER

Canned or dried beans & peas

Liquid shelf-stable milk

Canned beef stew, chili, bean soup

Canola, olive, vegetable oil

Peanut butter

Pasta sauce
Home Delivery Program
ALIVE! delivers food Monday – Friday afternoons to the doorsteps of those who are unable to attend emergency food distributions. Home deliveries are available to seniors, individuals with disabilities, and single parents with very young children. Clients may receive once-monthly groceries: 3-5 days of shelf-stable food, meat, milk, fresh bread, eggs, and produce.
Referrals required from the Alexandria Office of Community Services 703-746-5700, an ALIVE! member congregation, or another social service agency. For more information on home delivery, contact Family Assistance or call 703-549-3692.
Community Partners
Community partners include food pantries, meal kitchens, and other distribution sites that together provide city-wide food resources and easier access. ALIVE! provides its partners with shelf-stable food, fresh bread, frozen meat, and produce to these community partners:
Alexandria Department of Community and Human Services

Alexandria Health Department

Alexandria Housing Development Corporation

Alexandria Redevelopment and Housing Authority

Casa Chirilagua

Child and Family Network Centers

Christ Church pantry

Christ House pantry

DAR Al-Hijrah Islamic Center

Ethiopian Center for Peace and Progress

Ladrey Senior Housing Apartments

Lorton Community Acton Center

Meade Memorial Church pantry

Mt. Jezereel Church pantry

Neighborhood Health

Oakland Baptist Church pantry

Old Presbyterian Meeting House Open Table Breakfast

Old Town Community Church Open Table Breakfast

Our Lady Queen of Peace

Society of St. Vincent de Paul

St. Joseph Catholic Church pantry

Washington Street United Methodist Church Open Table Breakfast

West End pantry
If you are interested in becoming an ALIVE! Community Partner, contact the Food Program Director or call 703-518-5152.
Additional Food Access Resources
Get Involved
If you or your organization wants to volunteer, visit the ALIVE! Volunteer page to sign up online.
Financial Donations
Your financial donation goes a long way to help our mission. ALIVE! sources food in bulk at significant cost reductions. We can purchase many times over the amount of food with the same $5 you spend purchasing food to donate. Please consider a financial donation to ALIVE!.
Contact
For more information, contact the Food Program Director or call 703-518-5152.
ALIVE! is an equal opportunity USDA food provider. ALIVE! does not discriminate based on race, color, national origin, religion, sex, gender identity (including gender expression), sexual orientation, disability, marital status, family/parental status, income derived from a public assistance program, political beliefs, or reprisal or retaliation for prior civil rights activity, in any program or activity conducted or funded by USDA. To file a food program complaint of discrimination, access the USDA Program Discrimination Complaint Form.