Food Program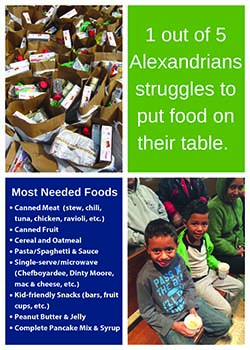 ALIVE! strives to provide nutritious staple foods to our neighbors in need through direct distribution to our clients and by supporting Alexandria's food pantries, meal kitchens, public schools, recreation centers and other community partners.
ALIVE! Food Programs
Last Saturday Food Distribution
ALIVE!'s Last Saturday Food Distribution helps bridge the gap many households encounter at the end of the month, struggling to put food on the table. All Alexandrians are welcome at Last Saturday to receive a 5-day supply of non-perishable food, meat, fresh eggs and produce. Last Saturday operates on the last Saturday of each month January through October and the second Saturday in December. There is no Last Saturday in November. It is held at three sites, 8:30am – 11:30am – choose the one that is most convenient. Distribution sites are:
West End: John Adams Elementary School, 5651 Rayburn Ave.

Arlandria: Leonard "Chick" Armstrong Recreation Center, 23 W. Reed Ave.

Old Town: Ladrey Apartments, 300 Wythe St.
Home Delivery Program
ALIVE!'s delivers food Monday through Friday afternoons to the doorsteps of those who are unable to attend at Last Saturday. Home deliveries are available to seniors, individuals with disabilities and single parents. Clients may receive once monthly groceries – 3-5 days of non-perishable food, meat, milk, fresh bread, eggs and produce.   To make a referral or get involved click here.
Children's Program
Many children are hungry on weekends when food provided at school is not available. ALIVE! Children's Program is proud to support Alexandria's children experiencing food insecurity by supplying pantries or providing Weekend Care Bags to the following locations:
ALIVE! Child Development Center

Charles Houston Recreation Center

Cora Kelly Elementary School

Hammond Middle School

LINK at Brent Place

LINK at Community Lodgings/Fifer Family Learning Center

Mount Vernon Elementary School

Patrick Henry Elementary School

Polk Elementary School

Ruby Tucker Family Center
Community Partners
Food pantries, meal kitchens and other food distribution sites provide a vital resource for those experiencing hunger. ALIVE!'s Community Partners program supports our city-wide network by providing non-perishable food, fresh bread and produce, wholly or in part, to these community partners:
Brent Place Apartments food distribution

Downtown Baptist Church Open Table Breakfast

Ladrey Senior Housing Apartments

Meade Memorial Church pantry, bag and hot lunches

Jezereel Chuch pantry

Joseph Catholic Church pantry

Washington Street United Methodist Church Open Table Breakfast

West End pantry
If you are interested in becoming an ALIVE! Community Partner or part of our Children's Program,  please click here or call ALIVE!
Help Get Involved
ALIVE! relies on volunteers for all of its food programs.  Please click here if you are interested in volunteering!   link to volunteer page. Volunteer for the Food Program
How You Can Help
ALIVE! depends on generous donations and support from the community to help feed our food insecure neighbors. We cannot sustain our operations without it and are extremely grateful for our donors and volunteers.
Cash Donations
Your financial contribution goes a long way to help our mission. ALIVE! is able to source food at significant cost reductions – we can purchase many times over the amount of food with the same $5 you would spend to purchase food to donate. Please consider a financial donation by clicking here.Link to donation form per excel sheet.
Food Donation Guidelines
ALIVE! strives to provide clients with the dignity of nutritious food and supplying groceries they would otherwise purchase if they had the means.
Food donations should be unopened, recent shelf-stable items.
Please do not donate items that are far beyond their shelf date.
The general rule is, if the food is not something you would enjoy, it's likely not something our clients would want to receive, either.
Please note our most wanted and needed foods include ALIVE! Most Needed Food. This list changes frequently, so please check back for updates.
Donated shelf-stable food may be brought to the Alexandria Food Center between 9:00 a.m. and 4:00 p.m. weekdays, located at 801 South Payne Street, Alexandria, VA 22314. Please email or call ahead to ensure someone is at the warehouse to receive your donation.
Host a Food Drive!
Conducting a food drive is a great way to support ALIVE!. ALIVE! will help you run a successful food drive in any way we can. Please consider a food drive in the Spring or Summer, when inventory is low. A food drive can be as creative as you would like.
You can:
Turn your next social event into a food drive by making the cost of "admission" a non-perishable food item.

Place a collection bin in your office, school or neighborhood and ask colleagues and friends to donate.

Collect donations at a tabling event outside a grocer, or at a community or neighborhood event
Please see our Food Drive Tips to Host ALIVE! Food and/or contact Ann Patterson, Food Program Director, for more information click here.