August 1, 2023
ALIVE! and Volunteer Alexandria Celebrate The Success of First City Wide Food Drive
33,511 lbs of Food Collected During the Month of July
Alexandria, VA – During the month of July, Volunteer Alexandria partnered up with ALIVE! to host the first ever City-Wide food drive. With 38 different collection locations throughout the city, the drive was able to collect more than 33,511 pounds over the course of the month. All of the items collected were donated to ALIVE!'s food program to directly benefit members of the Alexandria community in need of food assistance. "We are pleased with the outcome of our first community food drive and thank everyone who was able to help in some way. It was an easy decision to host it again in 2024," Marion Brunken, Executive Director, Volunteer Alexandria.
Volunteer Alexandria and ALIVE! extend a warm thank you to the local organizations that hosted a food drive collection box and encouraged their patrons to donate items. Lisa Groover with McEnearney Associates stated, "I was honored to host a food drive in Old Town Village for Volunteer Alexandria in support of ALIVE!. Living in a neighborhood that truly values the concept of "Neighbors Helping Neighbors", and working for a company that is committed to supporting the community we call home means the world to me." Without the support of local businesses like McEnearney Associates and Ting Internet, the food drive would not have been nearly as successful as it was. "At Ting, we firmly believe in the power of giving back. We're thrilled to support Volunteer Alexandria and this year's food drive! It's been truly remarkable to see the community come together to stock the ALIVE! warehouse with food,"says Nicole McNally, Ting Internet.
The food collected through this food drive will support thousands of families in our local community and ensure that ALIVE! has the resources to continue being a safety net for neighbors in need. VolALX mobilized volunteers to assist with this initiative and is extremely grateful for everyone who gave their time to make this a success. Elizabeth Murphy, a volunteer stated, "Being involved has been a great opportunity for me to help local families that are struggling with food insecurity during the summer months. The response from our community has been wonderful and I enjoyed meeting these caring groups and stocking the shelves so that no one will have to go without. Volunteer Alexandria made it easy to give back to those with the most need right here in our city, in so many different ways and at any time of year." 
The success of the drive could not have been achieved without the support of sponsors like the City of Alexandria, Ting Internet, Fitness Together, Passport Auto Group, and the Alexandria Rotary Club. Their sponsorship of this drive was instrumental in getting promotional materials off the ground and funding collection boxes. "It's been an honor to participate in the first annual VolALX food drive. Our Fitness Together community has been incredible and we are grateful to help uplift and support the Alexandria community. We can't wait for the next one!" says Nicole Bhatt from Fitness Together. 
"Thank you, Volunteer Alexandria, for hosting this food drive for us and the community," Jenn Ayers, ALIVE! Executive Director, "Donations like the ones we've received go a long way to keeping our costs down and provide a healthy variety of food to people who need help"
Thank you to all of the participating organizations:
Agudas Achim Congregation, Alexandria City Hall, Alexandria Children's Dentistry, Barrett Library, Beatley Library, Burke Library, Department of Community and Human Services, Department of Beer and Wine, Dolce and Bean, Duncan Library, Fairlington Presbyterian Church, Fairlington UMC, First Christian Church of Alexandria, First Church of Christ Scientist, Fitness Together, Gilbane Building Company, McEnearney Associates, Mt. Pleasant Baptist Church, Old Presbyterian Meeting House, Old Town North Community Partners, Russell Temple CME Church, Sixteenth Tabernacle Beth-El, The Episcopal Church of Saint Clement, The Goodhart Group, The Rotary Club of Alexandria Central, Top It Off, Ting Internet, Trinity United Methodist Church, TTR Sotheby's International Realty, United Bank, USDA Nutrition, Venue Condominium, Washington Street UMC, Westin Alexandria, YMCA Alexandria, Zweet Sport
Though the food drive was a success, the need for food assistance doesn't end. ALIVE! Provides basic groceries to roughly 12,000 to 15,000 people each month, and seeks contributions throughout the year to help fight poverty and hunger throughout the City of Alexandria.
ALIVE! collects food donations at the ALIVE! Food Warehouse (801 South Payne St) on:
Mondays, Tuesdays, Wednesdays, Fridays 9 am – 4 pm
Thursdays 9 am – 7 pm
Saturdays 9 am – 12 pm
About Volunteer Alexandria
Volunteer Alexandria (VolALX), a nonprofit organization, mobilizes, inspires, and connects people to causes and organizations in need of skilled and unskilled people. Since its founding in 1980, VolALX has served as a link between volunteers and local area nonprofit organizations in need of support. To learn more, visit volunteeralexandria.org 
About ALIVE!
ALIVE! is the largest private safety net in the City of Alexandria dedicated to fighting poverty and hunger. ALIVE! was founded in 1969 as Alexandria Involved Ecumenically by 14 faith communities in response to rising levels of poverty in the City of Alexandria. An interfaith organization, ALIVE! has grown to 50 member congregations. ALIVE! serves thousands of individuals every month, providing food, transitional shelter, financial help, eviction prevention, and furniture & housewares. To learn more, visit alive-inc.org
Photos: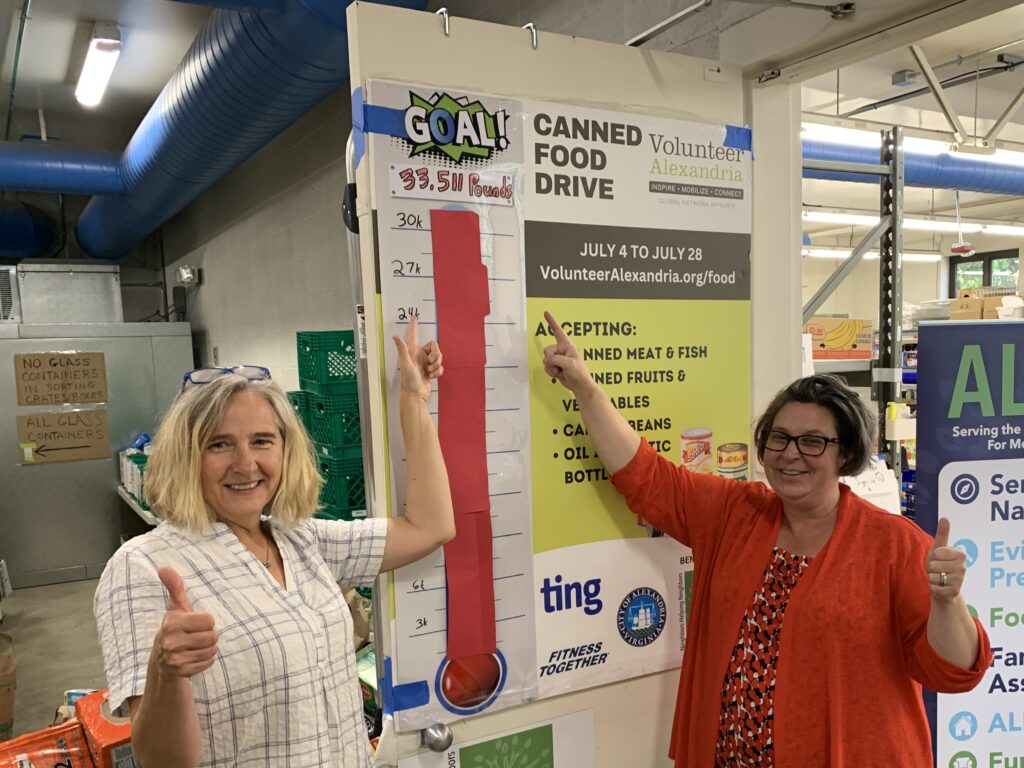 Marion Brunken, Executive Director of Volunteer Alexandria, and Jenn Ayers, Executive Director of ALIVE!, celebrate reaching the goal of collecting more than 30,000 pounds of canned goods and cooking oil during the month of July 
Media Inquiries
Karl Bach, kbach@alive-inc.org
Marion Brunken, mbrunken@volunteeralexandria.org, 703-836-2176
###