West End Food Hub (510-F South Van Dorn Street)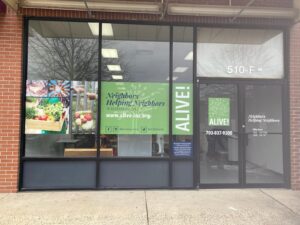 Operating Hours:
Tuesdays 11am – 6pm (Closed 2pm – 3pm)
Wednesdays 11am – 6pm (Closed 2pm – 3pm)
Thursdays 11am – 6pm (Closed 2pm – 3pm)
Saturdays 10am – 2pm
West End Food Hub (510-F South Van Dorn Street)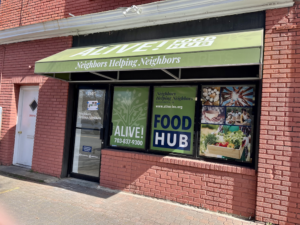 Operating Hours:
Tuesdays 12pm – 6pm (Closed 2pm – 3pm)
Wednesdays 12pm – 6pm (Closed 2pm – 3pm)
Thursdays 12pm – 6pm (Closed 2pm – 3pm)
Saturdays 10am – 2pm
The ALIVE! Food Hub offers Alexandria residents:
• food • personal items • cleaning supplies • school supplies • community • connections to information other services
Food Hub Process:
1. Check in. Welcome! Check in at the front desk. At your first visit you will be issued an ID card with a number. On return visits, you will show your ID card at check-in.
2. Get information on other services. ALIVE! offers assistance with a variety of services including rental assistance, food security and connections to other city and community services. Learn about other services and make an appointment, if necessary.
3. Shop for your groceries. Based on your household size, you will be able to choose items from a selection in various categories. This will allow you to choose foods that your household prefers. Your shopping assistant will guide you through the process.
4. Check out! Weigh items with your food assistant and package your items for transport to your home.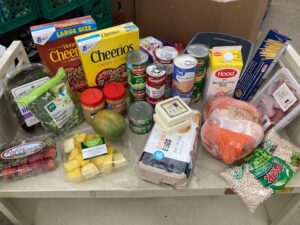 Food Hub Sample Selections for 4-Person Household:
• 2 packages of meat/poultry
• 4-6 produce items
• 2 packages of rice or pasta
• 2 dozen eggs
• 2 cans each of soup, tomato product, meat/fish, peanut butter
• 4 cans each of beans & vegetables
• 2 dairy items
• 2 bread/bakery products
• Plus special items!
Other Services:
ALIVE! can offer assistance or connections to other services, such as rental assistance, emergency family assistance, and food delivery for the elderly, persons with a disability, and single parents.
Would you like to make an appointment to talk more about any of the following services? 
SNAP Eligibility

Housing

Childcare

Immigration/Legal Services
Call us at 703-837-9300 or send us an email at info@alive-inc.org
ALIVE! Food Hub is closed on Sundays and Mondays and all federal holidays.
In inclement weather, ALIVE! follows Alexandria City Public Schools (ACPS) guidelines for inclement weather policies.
ALIVE! is an equal opportunity USDA food provider. ALIVE! does not discriminate based on race, color, national origin, religion, sex, gender identity (including gender expression), sexual orientation, disability, marital status, family/parental status, income derived from a public assistance program, political beliefs, or reprisal or retaliation for prior civil rights activity, in any program or activity conducted or funded by USDA. To file a food program complaint of discrimination, access the USDA Program Discrimination Complaint Form.