July 28, 2023
ALIVE! Welcomes New Board President Rolf Blank
Thanks Mary Eileen Dixon for leadership throughout COVID-19 pandemic
Alexandria, VA – At the beginning of July, ALIVE welcomed new executive board members for the fiscal year 2024, including incoming board President Rolf Blank. Rolf has previously served as the Vice President of ALIVE! and is a member of Fairlington United Methodist Church, one of ALIVE!'s 50 member congregations. Rolf has been a dedicated volunteer at ALIVE! for many years, doing his part to contribute to the success of ALIVE! and help his Alexandria neighbors in need. Rolf embodies the spirit and values that ALIVE! was founded on and ALIVE! is excited to welcome him into this new position.
"For more than 20 years I've been amazed how ALIVE! works collaboratively with congregations of all faiths to support the community. I am excited to be stepping into the role of board President and look forward to the year ahead," says Blank. 
Blank's arrival marks the departure of former president, Mary Eileen Dixon. ALIVE! Executive Director Jennifer Ayers stated, "We deeply appreciate Mary Eileen Dixon's stewardship of ALIVE! serving as board president from 2021-2023. Mary Eileen's hands-on guidance as we continued through a pandemic and shifted the organization's efforts to respond to community needs has been paramount. We look forward to Rolf continuing the tradition of community led service."
Mary Eileen Dixon's accomplishments and contributions to the community during her time as board President of ALIVE! cannot be overstated. Most recently, Mary Eileen oversaw the opening of ALIVE's first two brick and mortar Food Hubs, an incredible leap in ALIVE!'s ability to provide food and resources to those in the community facing food insecurity and in need of help to find stabilization services. Mary Eileen also served as ALIVE! Child Development Center (CDC) Committee Chair from 2012 to 2020, when the center closed due to the pandemic. ALIVE! saw many changes due to the COVID-19 pandemic — Mary Eileen has helped ALIVE! to embrace these changes and flourish in the pandemic's wake.
"It has been an honor to lead ALIVE! during this eventful period. Its ability to stretch and grow to meet new demands has been awesome. I am confident that its committed staff and volunteer corps will continue to find new and better ways to help improve the lives of our struggling neighbors." said Dixon. 
About ALIVE!
ALIVE! is the largest private safety net in the City of Alexandria, VA dedicated to fighting poverty and hunger. Founded in 1969 as Alexandria Involved Ecumenically by 14 faith communities in response to rising levels of poverty in the City of Alexandria. An interfaith organization, ALIVE! has grown to 50 member congregations.
ALIVE! is supported by the City of Alexandria; community and civic organizations; local businesses; and volunteers working together to provide basic needs support to Alexandrians. ALIVE! serves thousands of individuals every month, providing Food, Transitional Shelter, Financial Help, Eviction Prevention, and Furniture & Housewares. To learn more, visit alive-inc.org
Photos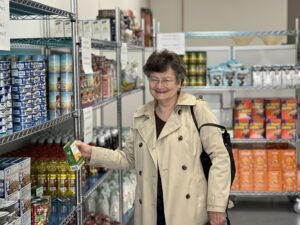 Mary Eileen Dixon at ALIVE!'s Food Hub in the Van Dorn shopping center

Rolf Blank (Left), Caroline Condon, and Ellen Brown representing ALIVE! and Bryan Perry representing Hunger Free Alexandria at City Hall for World Food Day
Media Inquiries
All media inquiries and/or interview requests with ALIVE!:
Jenn Ayers, execdir@alive-inc.org, 571-218-2436
###