Scouting For Food is one of the most successful food drives for ALIVE! each year and we couldn't do this without the help of some amazing Alexandria Scouts who collect food donations door to door!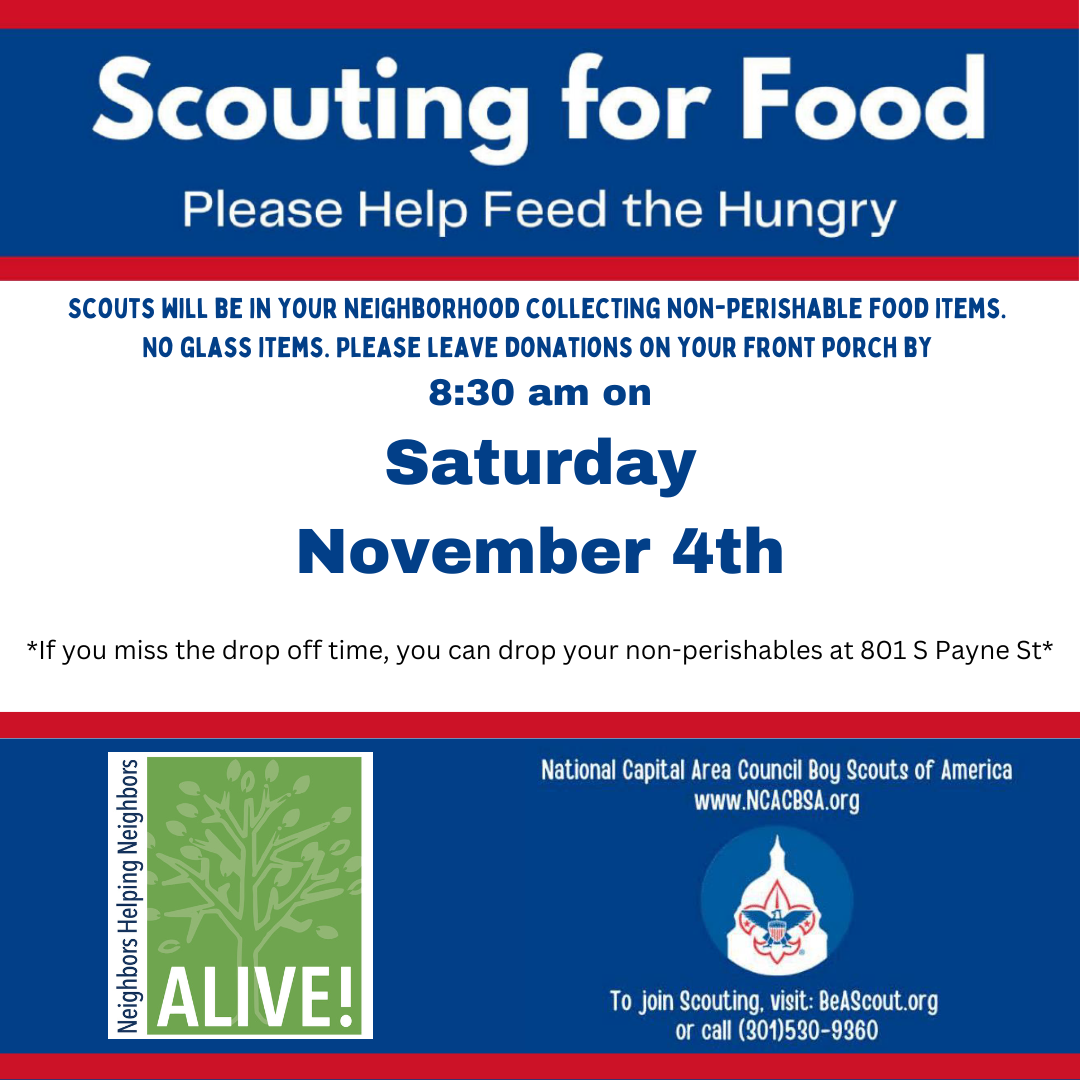 This year, Scouting For Food will be held on November 4th and if you receive a note on your door from a Scout you can leave a donation out for collection. You can also give today through the Scouting For Food online store.
In Alexandria, donations collected through Scouting for Food will be directed to ALIVE! and other local food banks.
Items in highest demand include the following items (Note that, for storage and transport, residents are asked to avoid donating food in glass containers):
Canned protein (tuna, salmon, chicken, peanut butter)
Soups and stews (beef stew, chili, meat-based soups)
100% fruit juices (all sizes)
Grains (pasta, whole grain pasta, rice, brown rice, boxed macaroni and cheese); cereals (multi-grain, low sugar cereals, oatmeal)
Canned vegetables
Canned fruits
Condiments
Hygiene products (diapers, toilet paper, tissues, soap, toothpaste)
In the instance of food placed on a porch that is not picked up, residents may reach out to colonial@ncacbsa.org until Saturday, November 11, to coordinate a missed pickup. Donations can also be delivered directly to the ALIVE! Food Warehouse (801 South Payne St).
Mondays, Tuesdays, Wednesdays, Fridays: 9 am – 4 pm
Thursdays: 9 am – 7 pm
Saturdays: 9 am – 12 pm
Donate to Scouting for Food Online during October
In an effort to maximize participation in this food drive there is a new online shop that allows supporters to purchase the most needed items. All items will be shipped directly to ALIVE! and local food pantries. See more at: https://yougivegoods.com/colonialdistrict-scoutingforfood2023