ALIVE! Opens Second Food Hub in Alexandria
Grand Opening and Ribbon Cutting Ceremony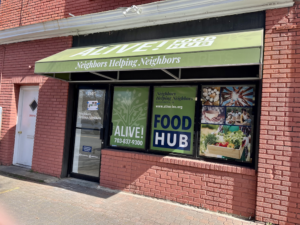 April 12th 8:00am – 9:00am
2601 Mount Vernon Ave, Alexandria, VA 22301
Event Summary:
ALIVE! is excited to announce the Grand Opening of our second Food Hub at 2601 Mount Vernon Ave. This new ALIVE! Food Hub is across from Mt. Vernon Community School and will offer residents of the City of Alexandria: food, personal items, cleaning supplies, school supplies, community, and information about other support services.
All are welcome to help us celebrate and join ALIVE!'s board members, Alexandria City Mayor Justin Wilson, and faith leaders for the ceremonial ribbon cutting.
ALIVE! Food Hub Ribbon Cutting Ceremony
April 12th 8:00am – 9:00am
2601 Mount Vernon Ave, Alexandria, VA 22301
Speakers:
Jenn Ayers, ALIVE!'s Executive Director
Mary Eileen Dixon, Board President of ALIVE!
Pastor David McWilliams– Del Ray United Methodist Church
Alexandria City Mayor Justin Wilson
Featuring interior murals by local artist Eddie Harris – @eharrisart
About the ALIVE! Food Hubs:
As a sub-awardee of the City of Alexandria, ALIVE! received funding from the American Rescue Plan Act to open brick and mortar locations to distribute free food and to connect city of Alexandria residents in need with support services. The first food hub opened on the West End of Alexandria on May 26th, 2022 at 510-F S. Van Dorn Street (in the Van Dorn Station Shopping Center).
Alexandria City residents are able to visit ALIVE!'s Food Hubs at times that are more convenient to their schedules, and will be able to select the specific items they need in a market-like experience. At each Food Hub, ALIVE! staff and volunteers also work to connect clients with other public and private support services. Having service navigators on site to provide information and help clients sign up for these services may provide just the boost they need to start up the path toward self-sustainability.
Opening these Food Hubs will not mean the end of ALIVE!'s traditional methods of distribution. To reach as many food insecure Alexandrians as we can, our monthly food distributions events around Alexandria will continue, as will select neighborhood pop-ups and provision of food to various food pantries.
The ALIVE! Food Hubs offers Alexandria City residents:
• food • personal items • cleaning supplies • school supplies • community • connections to information other support services
(NEW) ALIVE! Food Hub (2601 Mount Vernon Avenue)
Operating Hours:
Tuesdays 11am – 6pm (Closed 2pm – 3pm)
Wednesdays 11am – 6pm (Closed 2pm – 3pm)
Thursdays 11am – 6pm (Closed 2pm – 3pm)
Saturdays 10am – 2pm
West End Food Hub (510-F South Van Dorn Street)
Operating Hours:
Tuesdays 11am – 6pm (Closed 2pm – 3pm)
Wednesdays 11am – 6pm (Closed 2pm – 3pm)
Thursdays 11am – 6pm (Closed 2pm – 3pm)
Saturdays 10am – 2pm
About ALIVE!
ALIVE! is the largest private safety net in the City of Alexandria dedicated to fighting poverty and hunger. Founded in 1969 as Alexandria Involved Ecumenically by 14 faith communities in response to rising levels of poverty. ALIVE! has grown to 49 interfaith member congregations. More at: alive-inc.org
Media Inquiries
All media inquiries for photos, and/or interview requests please contact:
Jenn Ayers, execdir@alive-inc.org