Food Distribution Schedule
Click the hyperlinks below for the December and January ALIVE! Food Distribution Calendars. Calendars are subject to change.
ALIVE! Food Distribution Calendar (DECEMBER 2021)
ALIVE! Food Distribution Calendar (JANUARY 2022)
Pop Up Distributions Schedule
ALIVE! pop-ups are for distribution to the intended neighborhood or apartments in collaboration with our community partners.
Wednesday, December 15 from 10:00 AM until supplies run out
Casa Chirilagua (4109 Mt. Vernon Ave)
Thursday, December 16 from 4:30 PM – 6:00 PM


Francis C. Hammond Middle School (4646 Seminary Rd)

Friday, December 17 from 11:00 AM until supplies run out


Old Town Community Church (212 S. Washington St)

Saturday, December 18 from 9:00 AM – 11:00 AM


Fairlington United Methodist Church (3900 King St)

Saturday, December 18 from 10:00 AM – 12:00 PM


Oswald Durant Center (1605 Cameron St)

Tuesday, December 21 from 4:30 PM – 6:00 PM


William Ramsay Rec Center (5650 Sanger Ave)
ALIVE! Information & News
ALIVE! Board Meeting
The next ALIVE! Board Meeting will take place virtually on Tuesday, February 1st at 7pm. Please check your email for details and a zoom link.
Holiday Help for ALIVE! House
ALIVE! House is looking for wrapping paper, tape, and gift bows. Please contact Danien Johnson djohnson@alive-​inc.org to make a donation to support holiday activities for our residents.
Office Hours & Holidays
ALIVE! Family Assistance Program will be closed between Christmas and New Year's. The ALIVE! Food program will be operating on a reduced schedule during this time, and the main office will be closed, December 23-27 and December 30 and 31. ALIVE! House will be staffed appropriately, and we will maintain food support as needed.
MLK Day of Service Congregational Food Drive & Reusable Bag Collection
ALIVE! is joining the city-wide goal of moving away from plastic bag and encouraging the use of reusable bags, and we need your help!
Please consider being a site for the first ALIVE! MLK Day of Service Food Drive & Reusable Bag Collection. By signing up, congregations agree to be listed in the directory of congregations collecting food for ALIVE! in reusable bags and bringing these bags to our drop off site (801 S. Payne St) on MLK Day. Each congregation can set their own hours- we encourage collections to run between January 14- 17 (MLK Day).
Donations will be weighed-in so that we can see how many pounds each congregation contributes and how much we raise together. Please contact, Program Operations Director, John Shockley opsdir@alive-in​c.org to register, or for more information. 
Turkey Trot and Giving Tuesday Recap!
We were so excited to see the return of the Del Ray Turkey Trot! So thankful to all the runners, walkers, and volunteers who made this event possible and also to those who donated thousands of pounds of food to help our food insecure neighbors. Special thanks to the Del Ray Business Association for their incredibly generous contribution of $6,000 and for Jack Taylor's Alexandria Toyota $5,000 contribution to honor ALIVE! past President Mike Oliver's service to our community and to others.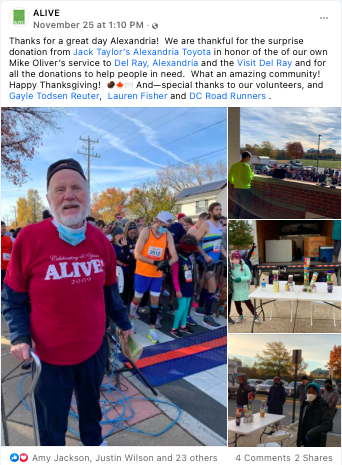 One more thing! We more than doubled our fundraising goal on Giving Tuesday! Together we raised nearly $24,000 from online contributions. Thank you to everyone who donated and who helped to spread the word about Giving Tuesday.
ALIVE! Staff Update- Ryan Willis
ALIVE! is pleased to announce that Ryan Willis has joined our administrative team as the Development & Communications Manager. He can be reached at Ryan Willis developmentmg@alive-inc.org; or via our main number: 703-837-9300.
Ryan was previously the Manager of Youth Initiatives for Special Olympics DC where he took the lead in overseeing the district's Unified Champion Schools program. In addition to overseeing the budgets and logistics of the department grants, he also assisted with several fundraising events for the Special Olympics, most notably the Polar Plunge.
Prior to working for the Special Olympics, Ryan worked as a Special Education teacher in two non-profit alternative centers in the Virginia area: Elk Hill Farms in Charlottesville, and PHILLIPS Programs in Fairfax. Ryan's deep passion for community outreach and getting people involved has led him to the ALIVE! organization.
End of Year Gifts
ALIVE! End of Year contribution letters will be arriving in mailboxes shortly and our campaign will continue to the end of the year. Please be sure to let others know about the opportunity to give and help sustain the work we are doing.
Your $100 donation allows us to provide 1,000 meals for Alexandrians facing hunger. To contribute and learn more click here.