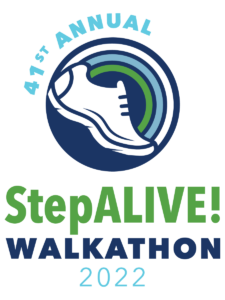 41st Annual StepALIVE! on October 16 
For over 50 years, ALIVE! has supported our neighbors in need. Please help us fight poverty and hunger in Alexandria by walking with us at the  41st Annual StepALIVE! Walkathon to benefit ALIVE!. There are a number of ways to participate.
DATE:
October 16, 2022 
LOCATION:
First Christian Church parking lot
2723 King Street, Alexandria, VA 22302
Suggested parking at First Baptist Church (2932 King St)
TIME:
1:15pm On-site registration and T-shirt pick-up 
2:00pm Kickoff 
3:30 – 4:30pm Post-walk celebration 
REGISTRATION FEES: 
$25 Individual Walker ($30 at event) 
$10 Children 6 -13  
$10 Seniors 70+ 
Free Children under 6
Join other ALIVE! supporters for an outdoor kickoff, a group walk through Old Town, and a post-walk celebration.
There will be prizes for the team with the most walkers and most money raised.
All paid registrants receive the 2022 StepALIVE! T-shirt.
T-shirt Pick-Up at First Christian Church parking lot
(2723 King Street)
Saturday, October 15 from 11:00am – 1:00pm
Sunday, October 16 at on-site registration
* Pick-up T-shirts for your entire team/ group/ household
Please observe appropriate health and safety measures.